South Korea's ASEAN Policy Today: The New Southern Policy and Its Standing
Keywords:
ASEAN, New Southern Policy, Republic of Korea, Foreign Policy
Abstract
Over the past few decades the significance of ASEAN to the Republic of Korea (ROK) has risen, with growing economic ties and Korea's active participation in ASEAN's security and economic institutions. In particular, President Moon Jae-in has endeavored to upgrade Seoul's ties with Southeast Asian countries through his signature diplomatic initiative known as the New Southern Policy (NSP). With President Moon's tenure since 2017 approaching its end; where does the NSP stand today? The paper highlights the three pillars of NSP: people, prosperity and peace. The paper argues that while people mobility is likely to further decrease under the prolonged impact of a global pandemic, the dissemination of K-culture through digital platforms will further popularize Hallyu industries within the ASEAN 4. Trade volumes are on the increase, as are ROK business ventures to ASEAN. However, the paper argues that the South Korean government and ROK enterprises must look beyond Vietnam to enjoy further benefits. The Fourth Industrial Revolution (4IR) positions ROK to capture the rising internet economy, particularly in the ASEAN 5 and Vietnam. Lastly, health and economic management during the pandemic will be likely to continue to top the agenda of ROK-ASEAN cooperation in the immediate future.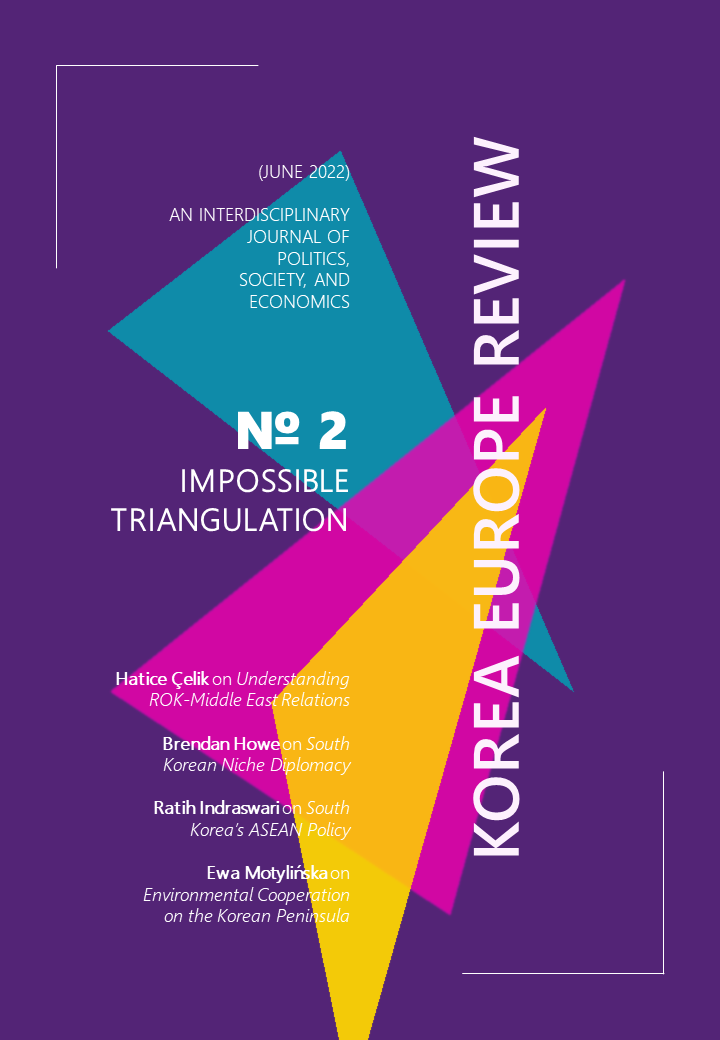 Downloads
How to Cite
Indraswari, Ratih. 2022. "South Korea's ASEAN Policy Today: The New Southern Policy and Its Standing". Korea Europe Review: An Interdisciplinary Journal of Politics, Society, and Economics, no. 2 (June). Berlin, Germany. https://doi.org/10.48770/ker.2022.no2.12.
License
Copyright (c) 2022 Ratih Indraswari
This work is licensed under a Creative Commons Attribution 4.0 International License.